An oversize load refers to the movement of a large load that requires a vehicle that is wider, heavier, higher, or longer than a standard road vehicle, and is subject to specific regulations. 
Transporting oversize loads can be a complex and challenging task that requires careful planning and execution to ensure safety, legality, and efficiency. A&G Engineering have been manufacturing steel tanks and vessels for 60 years and have an in-house transport and logistics team that is highly skilled in the transport of oversize products. When planning the transport of oversize items, the A&G team will consider:  
Legal requirements 
The regulations and restrictions governing the transport of oversize loads may vary from region to region. This may include requirements for permits, escorts, and route planning. Failure to obtain all necessary permits and adhere to regulations can result in significant fines and other penalties. 
Route planning  
Route planning for oversize loads must consider factors such as road widths, bridges, tunnels, and overhead clearance.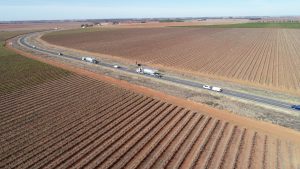 Timing and scheduling 
Timing is critical when transporting oversize loads, as delays can be costly and cause significant inconvenience. Oversize loads may only be able to use roads at specific times of the day, and regulations may restrict travel at night. Planning is essential to properly estimate arrival time at the destination.  
Escorts and signage  
In many cases, oversize loads will require the use of escorts, sometimes in the form of police vehicles. Escorts assist in guiding the load, ensuring that it stays within the legal constraints and provide adequate warning to other drivers on the road
Vehicle specification 
The type and size of the vehicle used to transport the oversize load will have a significant impact on its safety and efficiency. A&G operate specialist equipment including long haul prime movers, extendable low-loaders, B-double drop decks, and escort vehicles for deliveries and relocations. 
Load stability  
The stability and safety of the load is a top priority. The load must be properly secured and balanced to avoid shifting or tipping that may result in damage or accidents. In addition, the load weight must be distributed in a manner that does not compromise the safety of haul vehicles.  
Insurance coverage 
Accidents and damage can occur during the transport of oversize loads, so it is important to have adequate insurance coverage in place. A&G can arrange insurance cover and ensure all parties fully understand policy coverage and limitations. 
Transporting oversize loads is a complex task that requires careful planning and consideration of a wide range of factors. To find out how A&G Engineering can assist you with the relocation and installation of your stainless steel tank, talk to our expert team by calling us on (02) 6964 3422 or email sales@agengineering.com.au with your inquiry.  
We look forward to hearing from you.