Founded in 1963, A&G Engineering is an Australian, family-owned company that has grown from humble beginnings to become Australia's leading designer and fabricator of stainless-steel tanks and vessels. A&G has an outstanding reputation in the winery and brewery markets, as well as throughout the dairy, water treatment and petrochemical industries.
A&G is now a major business supporting communities in regional Australia, employing 160 people across manufacturing facilities in Griffith (NSW), Mildura (VIC), Angaston (SA), and dedicated retail facilities in Melbourne, Griffith & Mildura.
With manufacturing and retail arms to the business, and a wide range of clients across a number of market segments, there are a number of reasons A&G has thrived through 50 years of economic ups and downs, and industry boom and bust cycles.
Consistency of focus
A&G's history has been characterised by an unwavering focus on a simple goal – to be the lowest risk manufacturer and supplier to the industries we serve, while delivering the most favourable lifetime cost of ownership model to our clients.
Clients are rarely in situations where a standard solution is enough, and A&G's engineering team work closely with clients to meet all challenges with smart design and sophisticated engineering.
A&G products are a critical part of the client's supply chain, and A&G are relentlessly focused on ensuring that these products do the job required of them, as efficiently and effectively as possible.
Stayed in our lane
For over 50 years, A&G have focused on one activity – the design and fabrication of processing and storage tanks of all configurations and capacities for clients in the brewery, winery, dairy, edible oils, petrochemical, water and water treatment and agricultural industries. 
Tanks with capacities of less than 350,000 litres are typically fabricated in specialised workshops and transported to site for installation. Tanks with capacities greater than 350,000 litres need to be at least partially built on-site; A&G are Australia's undisputed leader in the onsite fabrication of large capacity stainless-steel tanks, with capabilities to fabricate tanks on site with capacities of up to 5,000,000 litres. 
Reliable supply chain
As one of the country's largest purchasers of stainless steel, A&G implements a strategy of diversity of supply chain that ensures reliability of material inputs for projects. With warehousing and distribution centres in each of Griffith (NSW), Mildura and Dandenong (Victoria), and a dedicated internal freight network, A&G is best positioned to ensure that the materials for client projects are on hand and available, while the substantial buying power ensures a consistent grounding of competitive input prices. A&G works hard to maintain relationships with its valued suppliers to ensure reliability of supply to its manufacturing and retail clientele. 
Experienced workforce
As an established and reputable employer in regional Australia, A&G has many long-term employees with vast experience in all aspects of tank and pressure vessel fabrication and installation. The scale of the A&G business and the size of its workforce provides a large pool of highly skilled resources that can be deployed on complex projects or to meet challenging deadlines.
Production flexibility
With manufacturing sites in New South Wales, Victoria and South Australia, resources can be deployed at multiple locations to work on a single project. This is one of the reasons A&G has such an outstanding record on deadline driven projects. While manufacturing can be distributed across several factories, final assembly is performed at the location that is most beneficial to the client in terms of logistics, installation and commissioning.
Investment in technology
A&G has a long history of investing in leading edge manufacturing processes to remain at the forefront of its field. In recently sourcing and implementing state of the art bending and automated Plasma TIG welding and polishing systems, A&G has developed its own unique PAM (Precision Automated Manufacturing) technique in each of its three dedicated tank fabrication workshops. When implementing this process, A&G had the foresight to invest in and deploy versions of this technology that can be applied to the "site-build" projects that it completes.
End-to-end capability
A&G is experienced in fabricating pipe work, stair towers, walkways, receival bins and conveyor systems and supply all relevant ancillary equipment to support the installation and commissioning of its tanks and vessels and is a genuine end-to-end supplier to its clients. 
In addition to design and manufacture, A&G has a dedicated logistics department with transport and lift equipment and experienced operators. Site safety teams are specialists at complex on-site builds and installations, ensuring that all installations are performed efficiently and safely and in full compliance with all state and federal WH&S regulations.
Innovation
From inception, A&G has always possessed a culture of innovation. For example, the business is responsible for the development of the 'Potter Fermenter', named after A&G Founder Ron Potter, and its successor, the 'Sweeping Arm Potter Fermenter' which revolutionised and improved fermentation techniques in the wine industry.
That spirit of innovation is now combined with five decades of experience that has delivered remarkable results for our clients through early adoption of advanced design and manufacturing such as Precision Automated Manufacturing that enhances production efficiency while ensuring precision and repeatability.
Industry recognition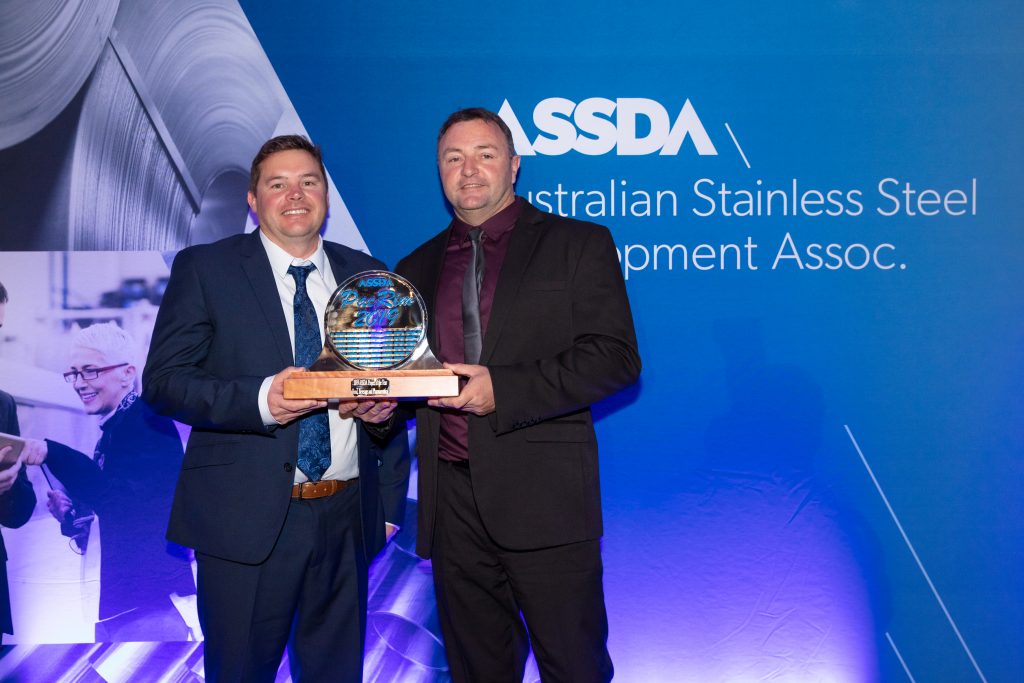 A&G are proud to have recently won the Australian Stainless Steel Development Association (ASSDA) 2019 Fabricator Project of the Year for the Weilong Wines project – a brand new 26,000 tonne capacity winery in Red Cliffs, Victoria. The project involved the manufacture of 180 stainless steel tanks, including two 1,200,000 litre storage vessels that were manufactured on site, with A&G staff working round-the-clock shifts to meet tight deadlines. 
A&G has also been the recipient of the Eureka Prize for Industry, WTIA Fabricator of the Year, and A&G founder Ron Potter has received various industry recognitions, such as the famed Maurice O'Shea Award for service to Australia's Wine Industry, and an Order of Australia Medal for his contribution to Australian Manufacturing.
Proud Regional Employer
A&G is a major employer in regional Australia and shares the values that are common to rural Australia; practicality, trustworthiness, a down to earth approach and a focus on getting things done. A&G hires locally and spends locally. The business takes its community responsibilities seriously and strives to continue to play its part in supporting economic and social viability of the communities in which it operates.
Supporting the next generation
A&G has an annual intake of apprentices from local areas. The number and diversity of workshops enables the company to provide a dedicated apprentice rotation program, exposing our developing team members to different workshops (and work practices) during the course of the programme. Deep immersion in the A&G culture helps the apprentices develop personally as well as professionally, with a view to producing the next generation of skilled trades people, project managers, estimators, workshop forepersons and business development resources. Employees that complete apprenticeships typically go on to enjoy long and rewarding careers with A&G.
The unmatched combination of experience, flexibility, expertise and technology for every A&G project serve to minimise production risk and ensure on-time, on-budget and as-specified delivery.
Ready to find out how A&G can help you? Talk to our expert team by calling us on (02) 6964 3422 or email sales@agengineering.com.au with your inquiry. We look forward to hearing from you.